So Scandal premiered on Thursday and I must say DAMN!!!!!
While Liv was on a secluded island with Jake, she gets a letter delivered with her groceries. No one knows where I am she says. Don't open it says Jake. If you open it,  you will find trouble. Liv opens the letter anyway and its a newspaper clipping about Harrison. Harrison is was found dead in a desert. So Liv and Jake leave there get away and head back to D.C.
Let me take you back for a moment. One the season 3 finale of Scandal, Harrison confronts Papa Pope and we were all left to believe that he was probably going to die. Take a look…………
After an ending like that I'm pretty sure no one was surprised that Harrison died. I guess this is better than Columbus Short's character being replaced by another talented, handsome, African American actor. The funeral was sad as all funerals are, but not seeing an actual body leaves me to believe that Harrison may not be dead. Well it at least leaves a slight chance for him to come back into our lives.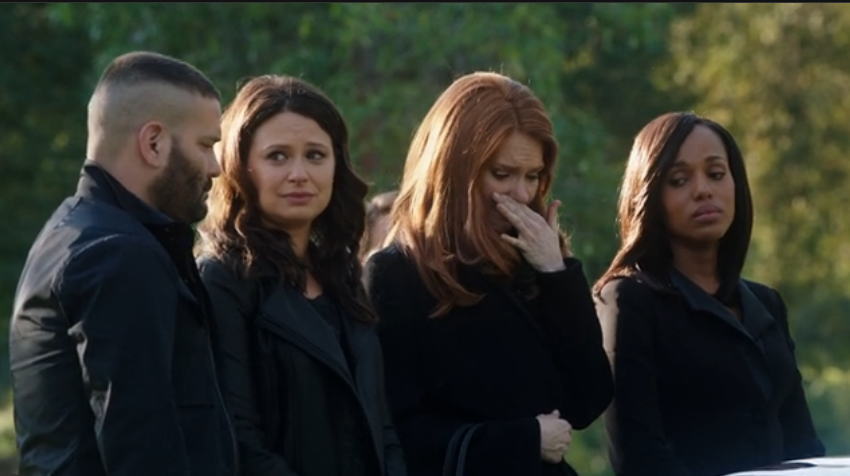 Although the unfortunate passing of Harrison reunites the GLADIATORS, it's still kind of bitter sweet. Liv says Harrison had no one, we were his people, we were his family. I an so going to miss Harrison. Although Columbus is not in the best graces of Shonda Rhimes right now. Shonda has been known to forgive and forget her cast members mistakes and give them another chance. Remember Dr. Burke aka Isaiah Washington was suddenly fired for saying some not so nice things to his gay colleague. Years later Shonda revived Dr. Burke so he could send Dr. Yang off with a bang. Ok back to Harrison. You are and always will be our GLADIATOR.
Related articles